BASEMENT & CELLAR TANKING
We are specialists in basement & cellar tanking (waterproofing) and conversions
If you're lucky enough to own a basement, you'll want to make sure it's a great investment. Not only do conversions and extensions throughout your house create an added value to your property, they create more space for a living or work preference. Whether your basement is still in consideration, in a working progress or is completed, it's important to consider, if not done already, basement waterproofing.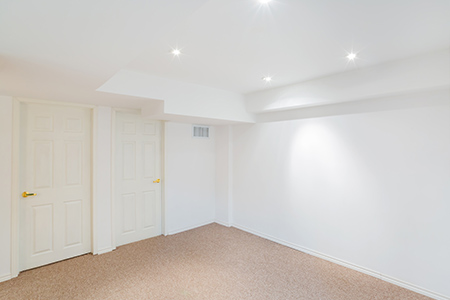 To combat running water from entering your property, and to provide perhaps additional living space, we are able to offer a variety of methods for providing dry, damp free walls and floors, tailored to suit particular requirements for our clients.
What is Basement Damp Proofing and Do I Need It?
Walls that are situated below the ground tend to be the first to be attacked my condensation, mould, rotting, leaks and damp if they're not regularly inspected or looked after. This is because the heat from the house tends to rise, so it's important to consider a suitable and steady room temperature for rooms under the ground. The next paragraph provides an answer to your question.
Yes – your basement does need to be waterproofed and damp proofed. Basement waterproofing is also commonly known as "basement tanking". It's a requirement to have your basement damp proofed, because there is most likely a build up of water in the ground surrounding the basement, leading to hydrostatic water pressure.
In simple terms, this means that the water pressure from the basement will immediately start to affect the floors and walls, resulting in cracks, dampness, joints and general structural weakness throughout your basement. If your basement does not have a water tank, then you could be facing mould, decay, structural problems (especially if you have timber down there) and damp-related matters, i.e. rising damp, dry rot, wet rot, penetrating damp and so on…
Basement Damp Proofing in Manchester & North West
Throughout this process, we will be using special materials and techniques used to reduce water that might/is going to penetrate your basement structure. Once your cellar or basement is waterproofed and damp proofed, the installation of the drains enables to effectively remove/re-direct water away from the basement.
We can provide high quality sealed waterproofing products, fitted with superior workmanship enabling complete protection for your home. Your basement should be protected and most importantly, be a safe and healthy living space for all of the family. Don't hesitate to get in touch today if you're having concerns/questions about your basement/cellar.
We provide damp proofing, basement taking and cellar waterproofing services to residents and businesses across Manchester and Greater Manchester including Altrincham, Bolton, Bury, Cheadle, Kearsley, Oldham, Sale, Salford, Stretford, Stockport, Swinton, Trafford and more.
If you require any type of damp proofing service, do not hesitate and contact us today. All our damp proofing specialists in Manchester are fully qualified and very experienced. For us no job is too small or too big, we ensure every job is completed on time and completed properly.