DRY WET ROT REMOVAL
Specialists in Dry Wet Rot removal in Manchester & North West
When Dry Rot occurs, it's a serious problem and it must be identified as soon as possible. If Dry Rot is not prevented, timber within your household can become weak and brittle, which is not good for any stable property. When Dry Rot is occurring, you will be able to identify it from its appearance. Dry Rot generally displays itself as a dull muddy brown, with fairly deep cracks.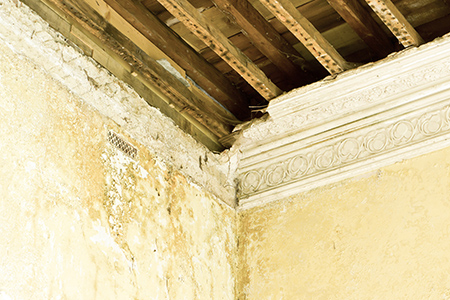 However it's important to have it professionally checked, as some wet rots can be disguised if they have a harder interior. If this problem is occurring, all of the timber is being affected.
How does Dry Rot occur?
Timbers within households and properties which become damp and lack ventilation are most susceptible to a Dry Rot attack. There is only one true Dry Rot Fungus and this can spread across, and penetrate, soft brickwork, stone plaster and mortar. Although the fungus does not directly attack these materials, it is able to pass over and attack fresh timber in other parts of the building, beyond the initial area of attack.
Because the fungus draws its nourishment from wood in which the moisture content is high, it is essential to maintain the property in a watertight condition. Good ventilation is desirable and a dry rot report, will often entail/detail/recommend carrying out repairs. The only way to eliminate Dry Rot is to remove the source of dampness, remove all defective timber and sterilize all the affected masonry.
Dry Rot Removal in Manchester & the North West
Here at Damp Right, we're professionals within the damp proofing industry and together, we can create a reasonable solution which will eliminate dry wet rot. Throughout this process, you will be given a complete run down on how we'll be tackling the dry wet rot. All the products that we'll be using are approved by the HSE.
We provide damp proofing and dry rot removal services to residents and businesses across Manchester and Greater Manchester including Altrincham, Bolton, Bury, Cheadle, Kearsley, Oldham, Sale, Salford, Stretford, Stockport, Swinton, Trafford and more.
If you require any type of dry rot removal service, do not hesitate and contact us today. All our damp proofing specialists in Manchester are fully qualified and very experienced. For us no job is too small or too big, we ensure every job is completed on time and completed properly.