Condensation & Mould Removal
Specialists in condensation & mould removal
Condensation is a common problem in most properties. Water vapor contained in the warm atmosphere (the humidity) is sealed into the structure as a result of double glazing, draft-proofing or the sealing up of a disused chimney. When the temperature drops this vapor condenses on colder surfaces such as windows and external walls resulting in damp areas. These are usually in poorly ventilated spaces i.e. corners of rooms, bedroom cupboards and behind furniture.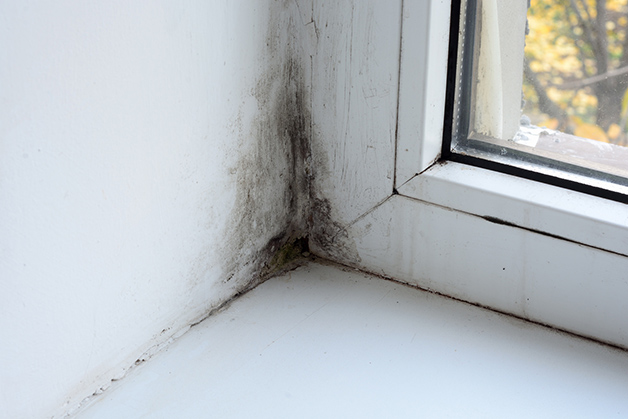 Mould and Condensation come together because once condensation has formed and it is damp; mould can then grow and collect off the service. Mould grows in the following areas: blinds that have sealed off bedroom window light (windows rarely opened), any window throughout the house, walls and behind furniture such as wardrobes, sofas and cupboards.
How does Condensation affect my Home/Property?
Condensation accounts for approx 70% of reported domestic damp, and is undoubtedly a contributing cause of some infestation by wood boring beetle and dry rot outbreaks.
Condensation can commonly be attributed to a lack of balance between heating and ventilation resulting in a rise in relative humidity. Air can hold more water vapour when warm than when cold. When warm air is cooled, such as when the heating system is switched off at night, it will deposit the water that it can no longer retain as condensation on a cold surface. A similar effect can be demonstrated by breathing onto a mirror or other cool surfaces. Mould also only needs a humidity percentage above 55%; from there it becomes a breeding ground on its own.
In its less serious form, condensation may "steam up" windows and mirrors. In more severe cases, it can be absorbed by surface wall finishes and underlying plaster causing dampness, although the underlying brickwork or masonry will normally be of a lower moisture content.
It may cause mildew on fabrics and leather and, in extreme cases, can cause walls to be visibly wet. It is frequently accompanied by mould growth, of which the most common is "black spot" – a mould, which appears, first as small soot-like spots, of which can join up and cause large black areas.
Condensation may occur at any height on almost any cool surface. This distinguishes it from RISING DAMP, which almost never occurs at heights of more than four feet over external ground level and which is confined to walls that are in contact with the ground. Unlike condensation, RISING DAMP normally results in the brickwork or masonry being of higher moisture content, than the plaster/render.
Condensation & Mould removal in Manchester & North West
We are specialists in all types of damp proofing services including condensation and mould removal services in Manchester and Greater Manchester, including; Altrincham, Bolton, , Bury, Cheadle, Kearsley, Oldham, Sale, Salford, Stretford, Stockport, Swinton, Trafford and more.
If you require any type of damp proofing service from condensation advice to mould removal, we can help. Our damp proofing specialists in Manchester are fully qualified and very experienced, our specialists only complete work that needs completing, they complete work on time and complete the job properly.
If you require any type of condensation or mould removal service in Manchester, then simply give us a quick phone call or fill in our contact form and a member of our team will contact you.